C.A.PICARD® INTERNATIONAL
IFEX 2020
16th edition of International Exhibition on Foundry Technology, Equipment, Supplies and Services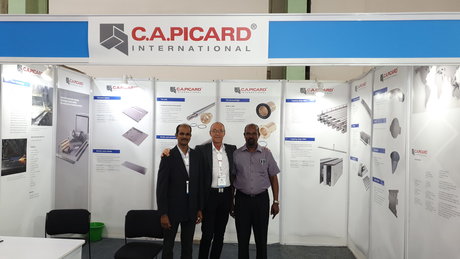 The exhibition took place in the Chennai Trade Center, Chennai, India from 28 February until 1 March 2020. It is the most important trade fair for the Indian foundry industry. More than 300 exhibitors from 13 countries participated in the trade fair. As several foundries are located in the region of Chennai, there was a considerably higher number of specialist visitors than last year.
We also realised this at our booth. Together with our new Indian partner, SAS Engineering, we had some interesting conversations with existing and potential customers. The Indian market is very interested in a second supplier of wear parts, which also became evident when we visited some customers after the trade fair. In total, the exhibition and the subsequent visits were a success for C.A.PICARD®. We will continue intensifying our activities in the Indian foundry market.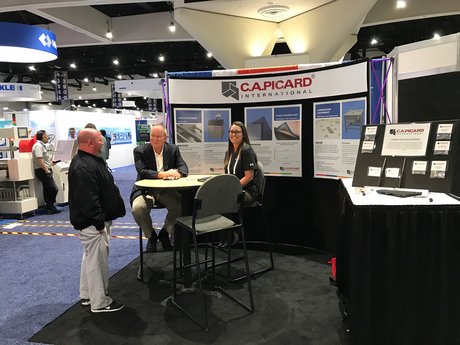 C.A.PICARD® exhibited at the IPC APEX EXPO in San Diego, California February 4-6, 2020: one of 477 exhibitors featured in the San Diego Convention Center. 8,516 electronics manufacturing professionals from 61 countries visited this year's expo. Mark Fink, Nikki Shepherd, and Dylan Rogan met with many customers to communicate the quality and value of C.A.PICARD®'s registration solutions to a diverse range of attendees.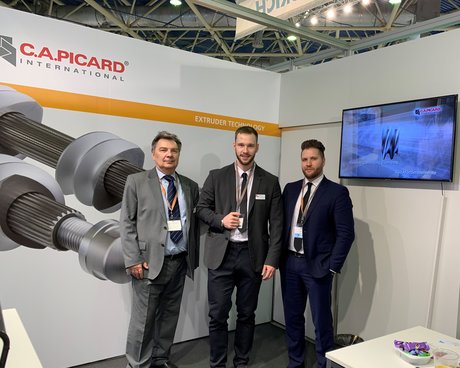 From 28 until 31 January 2020, we were again exhibitor at the INTERPLASTICA show in Moscow, the 23rd International trade fair for plastics and rubber. As in the past years, we could establish new contacts in the Russian market as well as consolidate existing ones.
937 exhibitors from 40 countries attracted approximately 24,950 visitors, predominantly from Russia and bordering states. The atmosphere was very positive and it was confirmed once again that the Russian market is back on track. However, there were also some concerns among many companies with regard to the spreading coronavirus, as many Russian companies expanded their business relationships particularly in China.
The next INTERPLASTICA will probably take place in January 2021 and should again be an opportunity to present and establish ourselves in the Russian market.
Saudi Plastics & Petrochem 2020
The 17th International Plastics and Petrochemical Trade Exhibition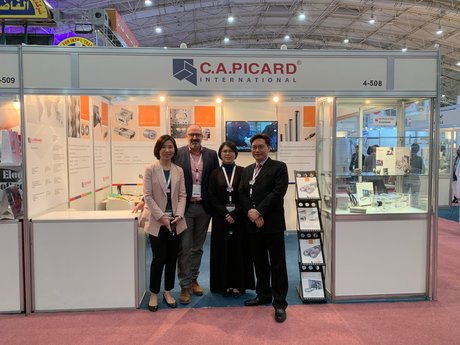 The exhibition was held in the Riyadh International Convention & Exhibition Centre, Riyadh, Saudi Arabia from 13 to 16 January 2020. As the nation seeks to push development according to the Saudi Vision 2030, exploring the potentials of the plastics, petrochemical, printing and packaging sectors is compulsory in order to promote industrial sustainability and to enhance the capabilities of other sectors.
By bringing together visitors and exhibitors on a vibrant platform, the event serves the objective to get together international companies and local entities to stimulate a contructive dialogue and an exchange of knowledge.
The exhibition is not large, but has exhibitors from different sectors associated with the plastics industry in the areas of:
Plastics: chemicals, raw materials, compounds, plastic pipes and products
Instruments: lab and control equipment, software, control and monitoring systems
Petrochem: chemical and petrochemical processing and handling equipment, chemical engineering systems, chemical plant machinery and equipment, energy sources, environmental safety equipment, filters and filtration systems
Plastic machinery and technology: processing recycling, mixers for food and liquids, powder compactors, crushers, shredders, grinders, and pelletisers
Other equipment for pre-processing, recycling: machinery and plants for processing, extruders and extrusion lines
Ancillary equipment: measuring, control and test equipment
Extruder wear parts: screws, barrels, shafts
This was the first time, C.A.PICARD® exhibited in this country. Although the number of visitors was not comparable to the major exhibitions such as K show or ChinaPlas, C.A.PICARD® established several important contacts and had fruitful and quality discussions with a couple of major companies.
Plastic Expo Tokyo Show 2019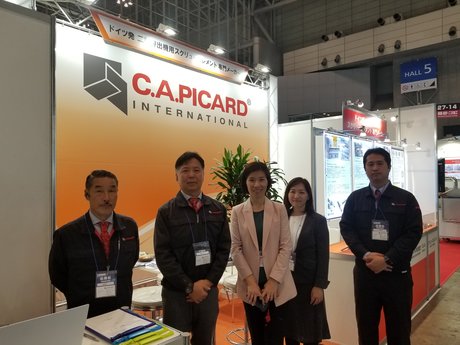 C.A.PICARD® participated in the "Highly-functional Material Week" in December 2019. The Plastic Expo is an exhibition bringing together highly-functional material technologies that are indispensable to various kinds of high-technology industries such as advanced materials, processing technologies, production equipment, and testing equipment. In addition, there were active discussions among researchers and manufacturers from diverse fields such as automotive, electronics, medicine, and aerospace.
About 1,360 companies participated as exhibitors and 54,000 people visited the show during these three days. Compared with the "Highly-functional Material Week 2018" also held in Tokyo, the total number of visitors decreased by approximately 9%, but the same number of people visited our booth last year.
Our booth was located in the resin injection/processing technology zone and we presented the FD system and the Barrel Measurement Device (BMD) via promotional film.
Our FD system with PLC control to dismantle screw elements from shafts with full protection for screw elements, shafts, and especially for the workers
Our BMD with accurate information and analytical reports on barrel wear
We were pleased to meet our customers and other visitors and enjoyed the discussions with them.
The next Plastic Expo will be held in Osaka from 13 to 15 May 2020. We are looking forward to seeing you at our booth.
The 2019 International Electronics Circuit Exhibition (Shenzhen)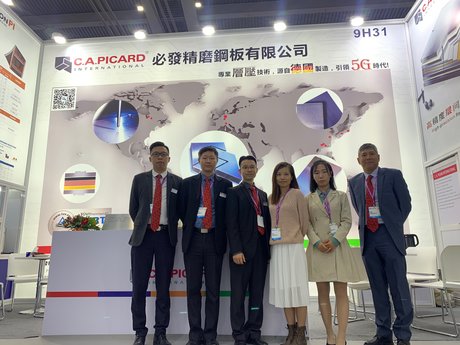 The 2019 International Electronics Circuit Exhibition (Shenzhen) - formerly the International Printed Circuit & APEX South China Fair - was again a very successful show at the Shenzhen Convention & Exhibition Center, Shenzhen, China, from 4 to 6 December 2019. It was themed "Converging Ideas, Steering Innovation and Navigating Industry".
The 18th edition of the exhibition - jointly organised by the Hong Kong Printed Circuit Association (HKPCA) and the China Printed Circuit Association (CPCA) - featured the latest products and services covering the whole supply chains of the PCB and EA industries.
This year's show set a record as regards the number of exhibitors - 621 exhibitors from 14 countries and regions, ranging from innovative startups to established industry leaders, at 3,537 booths on an exhibition area of 68,900 m2. This enormous show attracted an equally impressive audience, with a total of 55,350 visits, which increased by 14.7% compared to 2018.
With the joint efforts of all employees, the exhibition ended successfully for C.A.PICARD®. We are ready for the opportunities and challenges of the 5G era, about which we learned a lot during the three days of the show.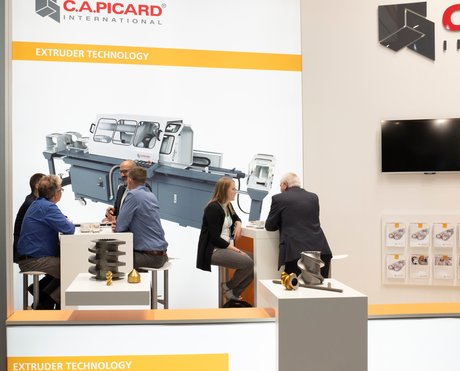 From 16 to 23 October 2019, C.A.PICARD® presented themselves on the K Messe in Düsseldorf as the biggest alternative supplier for process units for twin screw extruders.
K 2019 attracted 225,000 visitors from 165 countries in total. At the C.A.PICARD® booth, more than 100 visitors from 30 countries caught up on spare parts and services for their extruders.
Product innovation: TapeTec®
In particular, our visitors were very enthusiastic about the product innovation TapeTec®. The BX wear liner coated with TapeTec® is our response to the challenges faced by highly wear-resistant protection zones in twin screw extruders. Themed "Scratch me if you can", the differences of TapeTec® compared with known materials could be experienced haptically. The new BX liner offers maximum protection against abrasion and corrosion.
The 3,333 exhibitors came from 63 nations. Germany, Italy, The Netherlands, India, Turkey, China, and the USA were the countries most strongly represented.
Beside the current situation in the automotive industry, the recycling economy along the total recycling chain was the predominant topic. However, there were also controversial discussions on the request for lighter plastics (electric mobility) and the search for substitutes for mass plastics - for example biopolymers - driven by the current environmental discussion.
The next K exhibition will take place in Düsseldorf from 19 to 26 October 2022.